IMPORTANT WATER SEASON UPDATE FOR AUGUST 9, 2022
We are doing our best at RRVID to make continued water deliveries and keep everyone on their rotations. We would like to express our sincere thanks to our Water Patrons for all of your patience and support as we navigate through another year of low water amounts.
With all of the continued cooperation and everyone doing their part, I believe that I can now get us to September 9th.  Please remember this is only an estimated shut off date. With today being August 9th, that September date is still a month out – there are a lot of variables and unforeseen circumstances to be mindful of, such as continued extreme hot temperatures, loss of what I am predicting flow in the creeks to be etc.
Like you, I am ready for these drought conditions to be over and have the water flow normally again.  My hope is that next irrigation season this will happen, but if it doesn't, I assure you that we will again do all that we can with what we have to work with, just as we have this season.
Thank you all again for your understanding.  Let's hope for snow in the mountains this Winter and another very wet Spring in the Valley.
Sincerely,
Brian Hampson – RRVID District Manager
IMPORTANT WATER SEASON UPDATE FOR JULY 19, 2022
We are doing our best to try and make the water that we have, last as long, and go as far, as we possibly can.
As of now, barring any unforeseen issues, we are estimating that we will be able to make the water last until the 3rd or the 4th week of August.
I am seeing the current and the forecasted 100-degree temperatures in our valley. These hot and dry temperatures will definitely put more of a strain on our system. We have had our excavators on the ditch banks, removing moss, to encourage the flow of water to stay as steady as possible. Please be assured that our crew is doing everything we can to be proactive in preparation of the ongoing/upcoming high temperatures.
Thank you to RRVID Water Patrons for being so patient, as we once again work through another tough water year.
I will keep the website updated to keep you informed, as we work through the season, so that you have accurate information as to when we will be out of water and have to shut down the system.  There are a lot of factors in play that I am trying to work out.
Again, thank you for your patience.
Sincerely,
Brian Hampson – District Manager of RRVID
2022 WATER SEASON
STARTED MAY 16TH USING STREAM FLOWS
______________________________________________________
*** April 19, 2022 IMPORTANT INFORMATION FROM THE JACKSON COUNTY WATERMASTER, SHAVON HAYNES***
Governor Brown signed the drought declaration on April 7, 2022 for Jackson County.
This is the link to some water right resources that can be made available for water users that are impacted by the drought.  Also, this is a link to the OWRD drought page where other resources are available.
*** April 18, 2022  IMPORTANT WATER SEASON UPDATE  ***  
LETTER FROM THE DISTRICT  MANAGER  
    Rogue River Valley Irrigation District is gearing up to have yet    another challenging year for irrigation deliveries.  After a Board Meeting on April 13th, it was decided that as of right now, weather dependent, we will be charging the system May 16th, 2022.  We will begin deliveries after the system is charged.
     If by chance, we are lucky enough to have stream flows in early May and we can make full deliveries with those stream flows, then we may try and run one rotation off of those flows. The RRVID Crew will be working hard to put the system together and we will be ready to run early May if these flows are available. 
     So that we can be as efficient as possible, please help us by    making sure that you are prepared to accept water in early May. If we are able to do this stream flow plan, then we may shut the system down after the first rotation and hold off for a few days, then start back up.  Once we start back up – we will be using our reservoir storage at that time.  Then,  at that point—we will be running until our reservoir supply has been  depleted.
     All of this depends on the weather. If we happen to have a wet May and it is raining, then the May 16th date may change. However, this is our plan for now.
     As of right now, unfortunately RRVID does not have water storage in Emigrant Lake. So, we will attempt to irrigate the entire District off of Agate Reservoir.  This has never been attempted before and we do not know how long we can make this work.  Although we are in unprecedented times, I assure you that we will do our very best with what we have.
    Thanks to all of you for your patience as we work our way through this and try to be as efficient as we can, with the water that we have.
     I would like to ask that if by chance you choose not to irrigate this season then please contact our District office and let us know. We can adjust rotations accordingly to accept your water and we will use that  water in the most efficient way possible for our other Water Patrons.
Best regards,
Brian Hampson
Secretary/District Manager
Rogue River Valley Irrigation District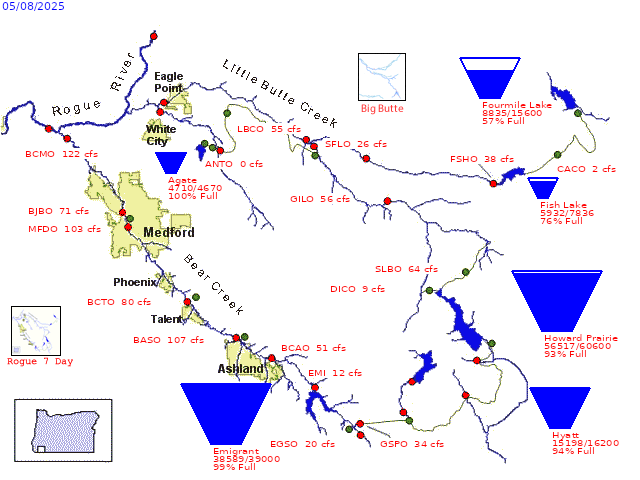 April 13, 2022 Important Water Season Update
The Board of Directors of Rogue River Valley Irrigation District met this morning at 9:00 am and it has been determined that we will begin charging the system on May 16th, 2022. This date may change according to weather and stream flow conditions. Weather and stream flow are the factors that will determine when we begin delivering water. Once the system is charged we will begin water deliveries. Many of you are wondering about a shut off date. At this point in time, I can tell you that we will run as long as we possibly can and water supply allows. 
Water Season Update – March 28, 2022
Letter from the Manager
RRVID is planning on running with the water we have in our supply this year.  We are in the process of getting Agate Reservoir full and that will be the water we have to work with for our 2022 irrigation season.  RRVID will attempt to run the entire district off of this water supply, which has never been done before, so we will do the very best that we can.
Knowing what we have in our reservoir, I am predicting to only have enough water to run for 25 to 30 days, before our water supply will  be depleted.  Hopefully we will have a little bit of stream flow to help us out, but I am not going to plan on that.
The start date of the water season has yet to be determined.  We are keeping a close eye on the weather patterns and hopefully we will get some precipitation in April to help us out.
As soon as we have a start date, I will let you all know.  Please continue to monitor our website for updates regarding the water season or you can always call our office.
Thank you all for your patience and understanding,
Brian Hampson
District Manager
Important Update for February 28, 2022 
Letter from the District Manager
I would like to start by saying thank you to our Rogue River Valley Irrigation District Water Patrons.  I know that last irrigation season put a strain on everything because of the drought year.  I want to assure you that myself and the crew, did the very best we could with the little amount of water that we had.
The 2022 water year as of now is not looking any better and in fact, it is worse than it was last year at this same time.  We have only accrued 4,100 A. F. to the system since the shut off August 2, 2021.  I was hopeful that the snow and rain that we had late 2021 and early this year (2022) was the start of the recovery of our reservoirs, but I have to say that was not the case.
It is still early in the year and I am going to remain optimistic that we will get some Spring rains that will perk up the streams and allow us to start putting water in the reservoirs, but I am also being realistic and the outlook is not very encouraging at this point, that we can make that happen.
We are scheduled to meet with TID and MID later in March to take a hard look at the amount of water we have to work with and at the same time, look at the best way to put the water we have to use.
We are in unchartered territory with this severe drought and we want to reassure you all that we are doing the very best that we can as we move closer to the start of the 2022 Irrigation Season.
I have also added the most recent Teacup Diagram (as of the date of this letter) which shows you the levels of our reservoir system so that you can have a real time look at what we are all up against.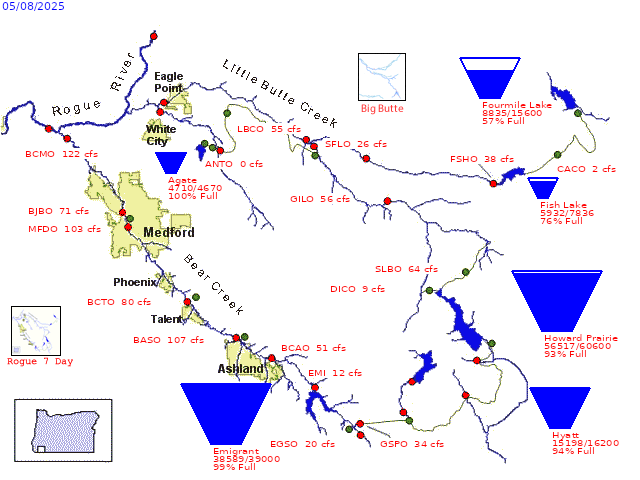 Please feel free to call the office if you have any questions and we will do our best to answer them.
Please do your best raindance and lets all hope for the best outcome.
Thank you,
Brian Hampson
District Manager 
Update for October 19, 2021:  We have added a very informative, 2 page article about the Joint System Canal Piping Project between Rogue River Valley Irrigation District and Medford Irrigation District and our many Project Partners.  Please click on the link below to open the pages.
https://documentcloud.adobe.com/link/review?uri=urn:aaid:scds:US:0af992b2-e265-4afe-806b-391b10d8c9ec
August 5, 2021 – RRVID is officially done with the 2021 water season. We shut down the system on Monday, August 2nd as stated below in the July 30th update.  We will not be turning water back on this year. Thank you all for your patience and understanding during the drought. Lets hope for a big snowpack this winter and a lot of rain in the Spring.
We are now taking credit and debit cards!
For your convenience we are set up to take your payment over the phone and in our office!  The fee for this convenience is .016 for debit and .026 for credit. This fee is calculated based on the amount of your payment.
For example:

A payment of $285.49 using a debit card will have a fee of .016
$285.49 x .016 = $4.57 Fee for a debit card transaction
A payment of $285.49 using a credit card will have a fee of .026
$285.49 x .026 = $7.42 Fee for a credit card transaction.


---
View current reservoir levels at the
 US Bureau of Reclamation Website
Please click the link below to view an article in the Mail Tribune regarding the drought.  By Vicki Aldous
MAIL TRIBUNE DROUGHT ARTICLE 2021
---
02/26/2021 Update on the Environmental Water Right Protection Assessment (EWRPA)
As we are always working on protecting the water in the valley, so that we can protect your water, we have had to extend the EWRPA (Environmental Water Right Protection Assessment). Please see the attachment that shows the Resolution decided upon by our Board of Directors.
Role of Soil Organic Matter | NRCS Soils
Role of Soil Organic Matter. Once a land manager begins working towards enhancing soil organic matter, a series of soil changes and environmental benefits follow. The rate and degree of these changes and the best suite of practices needed to achieve results vary with soil and climate.
Where does organic matter come from and how can farms of all sizes increase soil organic matter? Adding organic matter to soil begins through development of regenerative agricultural practices.
Regenerative agriculture depends upon doing the following:
keeping living (green) material in the soil around the year as much as practicable. For most farmers this can initially be achieved by initially introducing straw, manure, leaf mulch etc., and/or longer-term growing cover crops (green manure) then lightly tilling the cover crops in to a shallow soil surface.
keeping a cover residue of living/dead plant material on the soil surface at all times
reducing (preferably eliminating) plowing and tillage practices (minimize soil disturbances)
withholding use of synthetic chemical pesticides as much as practicable
optionally introducing livestock to increase economic and biological diversity (sheep, poultry, goats, beef, etc).
https://agfundernews.com/regenerative-agriculture-is-getting-more-mainstream-but-how-scalable-is-it.html
The overall documented suggestions are to use some/all of the practices of regenerative agriculture to increase soil organic matter (SOM).  The SOM improves soil ecosystem health that has a much stronger water holding capacity.  Growers then can keep an eye on their crops and/or use probes to measure soil moisture. There are many places where soil moisture probes can be obtained through the internet for less than $100.  Growers with soil containing increased SOM will be able to reduce irrigation frequency and amounts.
Neighbors could share one probe.
To get started this year on increasing SOM, a normally slow process, growers can add straw to their topsoil.  Purchase the cheapest straw available, generally free from contaminating seeds, and apply as much as is practicable to the topsoil. https://www.nrdc.org/experts/lara-bryant/organic-matter-can-improve-your-soils-water-holding-capacity
Obviously growing cover crops and leaving plant residues will be less expensive but this takes time to significantly increase SOM.  In the Fall, leaves are generally a free source of plant organic matter to add to topsoil. This plant source might be mainly applicable to smaller farms and backyard gardens.
__________________________________________________
Please click on this link to view a very informative Story Map Presentation of: The Bradshaw Drop Piping Project!
https://rvcog.maps.arcgidf9e4s.com/apps/Cascade/index.html?appid=96b28bc544a94055bc0fc366cdb
February 7, 2019
Letter from the Manager
Update on the piping project:  RRVID has been working on installing 3.2 miles of 48″ HDPE fusion welded pipe on part of our system between HWY 140 and Antelope Creek.  This will put approximately 40 to 42 pounds of pressure to the farm with hopes of eliminating pumping cost.  This is the first of what we hope to be, the beginning of modernizing RRVID.  So far RRVID has been able to do all of this work through Grant dollars and State funds that we acquired before starting the project.
In closing, let's continue to hope that we start seeing more snow in our mountains so that our reservoirs continue to fill before Spring and the beginning of water season.  Please continue to check back on our website to see the date that water season will begin for 2019 and other important information.
Sincerely,
Brian Hampson   District Manager/Secretary