2023 WATER SEASON HAS STARTED!
OUR START DATE IS MONDAY, APRIL 24, 2023.  PLEASE CALL OUR OFFICE TO ORDER YOUR WATER, FIND OUT YOUR ROTATION SCHEDULE OR TO HAVE US GET A MESSAGE TO YOUR DITCH RIDER, FOR A CALL BACK.
Since you asked >> We are now taking credit and debit cards!
There will be an FCA System Improvement Plan review session, held on April 19, 2023, at 11:00 a.m. for the Board Members at the District Office.
March 31, 2023 A LETTER FROM THE DISTRICT  MANAGER  
RRVID's crew and staff are working hard to prepare our district for the upcoming water season. Both the main canal and all of the laterals have been cleaned and are ready to run water for the 2023 season.
We have decent snowpack this year, which I am hoping equates to more water in the reservoirs. We are still well below average on storage, but we are ahead of where we were last year at this time. I believe that we will have stream flow this year that I can take advantage of early in the season, and I won't have to rely so heavily on the water that we have in storage quite so early in the season, like we have had to do the last several years. I am hoping that we will be able to pull off a "close to normal" irrigation season for 2023. I won't go so far as to say we will get all the way to   October, but I believe that I can get us close.
That was the good news. Now for the not so good news.
On March 10, 2023, the Klamath Tribes made a water call on all tributaries to Upper Klamath Lake for a lake level claim, junior to a 1908 water right. Within that call, RRVID is subject to this regulation and the tribes have made the call on Fourmile Reservoir, which sets in Klamath County, with a 1910 water right.
So, what does this mean for us?
This year on March 10, between RRVID and Medford Irrigation District, (whom we share Fourmile Reservoir with), we have 3,990 acre feet of water stored in the reservoir. As I understand it, we have the right to that water at a 1/3 – 2/3 split. 1/3 of that water goes to RRVID and 2/3 goes to MID or 1,330 acre feet available to RRVID and the rest going to MID. Any more storage that Fourmile may accrue after March 10th will be subject to regulation and released to Klamath and will be regulated by OWRD (Oregon Water Resources Department) and will not be available for RRVID to use, as it has been, for over the last 100 years.  At full storage, Fourmile holds 15,600 acre feet of water, so that means that the Rogue Districts have the potential of loosing 11,610 acre feet.  I am not saying that Fourmile will fill this year, I am just saying that the potential of losing that much water is there.
We began to hear rumblings of this happening about a month prior and we were active with a lot of "what if" scenarios.  Once the final order for regulation came on March 10th, we have been very engaged with our legal team, as well as our Southern Oregon delegation, both Democratic and Republican Representatives and Senators, trying to navigate the best path forward in fighting off this call on the water. The Klamath Tribes have the most senior water right, which is known as Time Immemorial, and our RRVID holds a March 31, 1910 water right, so we are junior to the Tribes and it has been determined that they do have the right to make the call.
Just because the tribes have the right to make this call, does not mean that it is a good or valid call, and that is where we are going to make our case.  Many of the issues that we will be raising are Attorney Client Privilege and therefore I am not at liberty to discuss this in depth at this time.  I am more than happy to talk with you about it, but please understand ahead of time, that if you call me, I am limited in what I can discuss and what questions I can answer, due to our legal strategy.
How does this affect us going forward? In the years to come, it will depend on when the Klamath Tribes make a call.  If the tribes make a year-round call, we may never see stored water in Fourmile again.  If Klamath Lake fills, then the water call is not good and we go back to enjoying the storage that accumulates that year or we come up with a legal solution that allows us to use the water even if the tribes make a call and Klamath Lake is not full. 
We are in the early stages.  I do not have all of the answers, but please be assured that myself, as well as your Board of Directors, our legal team and the other 2 districts, MID and TID, are doing everything we can to protect the water that the Rogue Valley Irrigators have enjoyed for well over 100 years.
Please stay tuned.  I will do my best to keep our website up to date with the latest happenings in our district.
In closing, my hope is that we all have a very successful year and we continue to get snow in the mountains and rain in the valley.
Sincerely,
Brian Hampson       District Manager
Board Meetings / Updated monthly
The May Board Meeting will be held at the District office at 1:30 p.m.  on Thursday, June 8, 2023
The meetings are open to the public. Please contact us at least one week in advance if you plan to attend and/or you have something to present to the Board so that we can place you on the agenda. Agenda click here  https://www.rrvid.org/board-meeting-agenda/
View current reservoir levels at the
 US Bureau of Reclamation Website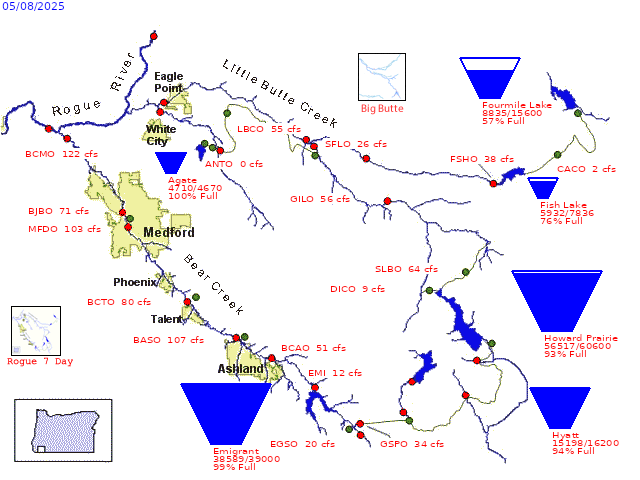 News going on in our District
October 19, 2021:  We have added a very informative, 2 page article about the Joint System Canal Piping Project between Rogue River Valley Irrigation District and Medford Irrigation District and our many Project Partners.  Please click on the link below to open the pages.
https://documentcloud.adobe.com/link/review?uri=urn:aaid:scds:US:0af992b2-e265-4afe-806b-391b10d8c9ec
02/26/2021: Update on the Environmental Water Right Protection Assessment (EWRPA)   As we are always working on protecting the water in the valley, so that we can protect your water, we have had to extend the EWRPA (Environmental Water Right Protection Assessment). Please see the attachment that shows the Resolution decided upon by our Board of Directors.
Role of Soil Organic Matter | NRCS Soils
Role of Soil Organic Matter. Once a land manager begins working towards enhancing soil organic matter, a series of soil changes and environmental benefits follow. The rate and degree of these changes and the best suite of practices needed to achieve results vary with soil and climate.
Where does organic matter come from and how can farms of all sizes increase soil organic matter? Adding organic matter to soil begins through development of regenerative agricultural practices.
Regenerative agriculture depends upon doing the following:
keeping living (green) material in the soil around the year as much as practicable. For most farmers this can initially be achieved by initially introducing straw, manure, leaf mulch etc., and/or longer-term growing cover crops (green manure) then lightly tilling the cover crops in to a shallow soil surface.
keeping a cover residue of living/dead plant material on the soil surface at all times
reducing (preferably eliminating) plowing and tillage practices (minimize soil disturbances)
withholding use of synthetic chemical pesticides as much as practicable
optionally introducing livestock to increase economic and biological diversity (sheep, poultry, goats, beef, etc).
https://agfundernews.com/regenerative-agriculture-is-getting-more-mainstream-but-how-scalable-is-it.html
The overall documented suggestions are to use some/all of the practices of regenerative agriculture to increase soil organic matter (SOM).  The SOM improves soil ecosystem health that has a much stronger water holding capacity.  Growers then can keep an eye on their crops and/or use probes to measure soil moisture. There are many places where soil moisture probes can be obtained through the internet for less than $100.  Growers with soil containing increased SOM will be able to reduce irrigation frequency and amounts.
Neighbors could share one probe.
To get started this year on increasing SOM, a normally slow process, growers can add straw to their topsoil.  Purchase the cheapest straw available, generally free from contaminating seeds, and apply as much as is practicable to the topsoil. https://www.nrdc.org/experts/lara-bryant/organic-matter-can-improve-your-soils-water-holding-capacity
Obviously growing cover crops and leaving plant residues will be less expensive but this takes time to significantly increase SOM.  In the Fall, leaves are generally a free source of plant organic matter to add to topsoil. This plant source might be mainly applicable to smaller farms and backyard gardens.
_________________________________________________
Please click on this link to view a very informative Story Map Presentation of: The Bradshaw Drop Piping Project!
https://rvcog.maps.arcgidf9e4s.com/apps/Cascade/index.html?appid=96b28bc544a94055bc0fc366cdb
February 7, 2019
Letter from the Manager
Update on the piping project:  RRVID has been working on installing 3.2 miles of 48″ HDPE fusion welded pipe on part of our system between HWY 140 and Antelope Creek.  This will put approximately 40 to 42 pounds of pressure to the farm with hopes of eliminating pumping cost.  This is the first of what we hope to be, the beginning of modernizing RRVID.  So far RRVID has been able to do all of this work through Grant dollars and State funds that we acquired before starting the project.
In closing, let's continue to hope that we start seeing more snow in our mountains so that our reservoirs continue to fill before Spring and the beginning of water season.  Please continue to check back on our website to see the date that water season will begin for 2019 and other important information.
Sincerely,
Brian Hampson   District Manager/Secretary